Batch Duration: 

12 Weeks

Videos Duration: 

24 hours

Start Date: 
Fee: 

Free of Cost

Who can Join: 

This course is more suitable for the trainees with the minimum qualification of: 1. Matriculation with Computer Science. 2. ICS / F.Sc Pre-Engineering. 3. DAE / Bachelor Degree

Video Medium: 

Urdu & English
AutoCAD is an emerging field that combines creativity with technical skills. This course will help a trainee to acquire basic introduction of Computer Aided Design (CAD). AutoCAD is the pioneer software in leaving behind the cumbersome ways of drawing on a sheet/paper by hand to CAD designing with technical approach. This course will help learn this software step by step from beginner to professional level. The goal is to develop planning and designing skills starting with the fundamental theory and practice of AutoCAD and quickly advancing to draw Polylines, fillets, chamfering, gradient, layers and hatching etc. 3D Max introduction and modelling will also be discussed in collaboration with AutoCAD software. This course puts you on the track of accomplishment by providing complete instructions on how to start your AutoCAD career as a freelancer and get the best AutoCAD jobs.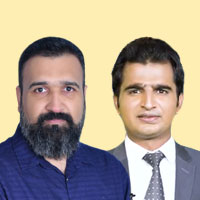 Syed Arif Hussain  (MS (City and Regional Planning))
Syed Arif Hussain has a Bachelors and MS degree in "City and Regional Planning" from University of Engineering and Technology, Lahore in 2014 and 2017 respectively. He was awarded two Gold Medals by Federal and Provincial Governments on account of excellent educational performance. He has been serving as a Lecturer in UET Lahore since 2014. He is an active member of Staff Advisor Blood Donor Society, as well as Deputy Incharge (Landscaping & Gardening) UET Lahore. He is an expert AutoCAD trainer and has great exposure with AutoCAD projects including Planning and Designing of buildings, housing schemes and 3D modelling in 3D Max and AutoCAD. He is also conducting various workshops on different software in UET. An experienced teacher and guiding professional who gives tips related to AutoCAD and other designing software to undergraduate students.
What you will learn
After completing this course, a trainee will be able to:
Prepare technical drawings with AutoCAD utilizing the tools of Draw, Modify, and Dimension toolbars.

Create and draw a basic 2D drawing in AutoCAD and its usage in planning and designing of housing schemes.

Use the basic functions and features of CAD 3D design and 3D Max.

Design using AutoCAD commands with the help of shortcut keyboard keys.

Convert any PDF version of drawings to AutoCAD file.

Export and present AutoCAD data into other formats like (PDF, JPEG etc.)

Design the layout of drawing and understand the printing and plotting features.
Share This With Friends......
+
Click Here To Join
also Our facebook study Group. This Content Originally Published by a member of VU Students.
+ Prohibited Content On Site + Report a violation + Report an Issue
..How to Join Subject Study Groups & Get Helping Material?..

Views:
19